After the big tide of information and missinformation about the controvertial design for the Eiffel´s tower new top, we decided to look for the real stuff, so in collaboration with my friend reporter Marcus Hurst we contacted with david serero the principal at serero architects, wich gave us this exclusive interview for edgargonzalez.com:
EG.com: How did this idea come about? Did you envisage this sort of attention when you posted this project on the internet?
David Serero: I have been doing for the last 4 years research on generation and fabrication of variable structural components. After almost 10 years working in the USA, Italy and Spain, I came back to Paris about 2 years ago. I rediscovered the Eiffel tower has I was showing it to my son for the first time. I was surprised when I realize that the Eiffel Tower was already using standardized three-dimensional structural beams which were assembled using variable geometric shape ( in order to fit the changing section of the tower). The tower has been since then a reference and a source of discussion for our projects.
We had no idea that proposing such a project would create such excitement and reactions from Parisians and people around the world. The interest raised by our project is not linked to the notion of structural performance or to the simple fact that it is related to a national monument. I believed that its interest rather resides in its relationship to the existing structure, on its deep intertwining with the existing structure. The platform does not operate on the mode of the addition, but rather on the mode of the mutation, on the one of the growth of the existing structure. Our platform unfolds with the same formal freedom, the same uselessness and gratuity of the Eiffel tower itself. Like the tower our proposal is bother hideous and beautiful, completely out of place and precisely integrated.
EG.com: Some have celebrated this action as an example of PR genius, whereas others have been highly critical of your actions. Don't you fear that this could hurt serero architects credibility?
David Serero:Our firm is known for the quality of its work ( Selection to the Venice Biennale , 2004 Rome Prize winner). We have a very different approach to architecture than most of the offices based in Paris. It is important to us to use these differences to (re)activate a critical debate about architecture and its role in society, as this debate is cruelly missing.
As confirm by a note on our website on March 31th , our project for a the temporary extension of the Eiffel tower is an unsolicited proposal to the Eiffel Tower management company. We are confirming that the SETE did not organized a competition on this topic, in contrary with what was announced in the press. This project has been a victim of disinformation ( notably by the article published in The Guardian) which contributed to discredit our proposal. Some blogs and daily newspapers did present wrongly the project as the winner of a competition organized and approved by the Société d'exploitation de la Tour Eiffel. We did actively ask journalists who contacted us to correct this information.
EG.com:A spokesman for serero architects informed the Belfast telegraph that your firm had been "invited to enter a limited competition" regarding your proposals, can you confirm that this is true?

David Serero: This is not true, we did contact last week the Belfast Telegraph to ask them to correct immediately their article. They did try to contact us but no one who worked on this project was available to answer their questions. They finally asked them to a foreign intern who just arrived to the office, who simply repeated what he read in the Guardian. This person was far from being aSpokesman for Serero Architects.
EG.com:You recently informed The New York Times that this is not the first time your firm has posted unsolicited designs on the internet. Can you give us some examples of previous cases of this?
David Serero: Yes, the MQB furniture, is a furniture design collection that we proposed to the Quai Branly Museum. Due to the fabrication complexity of such pieces the Museum decided to refuse this proposal. The Art Arena, was an unsolicited proposal to the Roland Collection. They approved the project and worked on it for 2 years before major site problems revealed and stopped the project. Our research projects often start from proposal that we want to make.
EG.com:The ease by which respected news sources have picked up on this story without doing any meticulous fact checking has highlighted the power of misinformation on the internet. Is this a reflection of declining standards in journalism nowadays?
David Serero: What really striked me is the manner information, was more accurately transmitted by the internet media ( such as blogs) in opposition with the written press who did a really bad job. I believed that the crisis that the press media is facing today ( freenewspaper competition, all the new support of information ) is unfortunately putting a stress of them and make them more dependant of readers. They need create surprises and to announce "scoop" news. We are effectively in a paradoxical moment, where a network of highly independent entities ( such as blogs) are more reactive and precise than huge media groups.
Many thanks to David Serero for giving and Marcus Hurst for conducting the interview.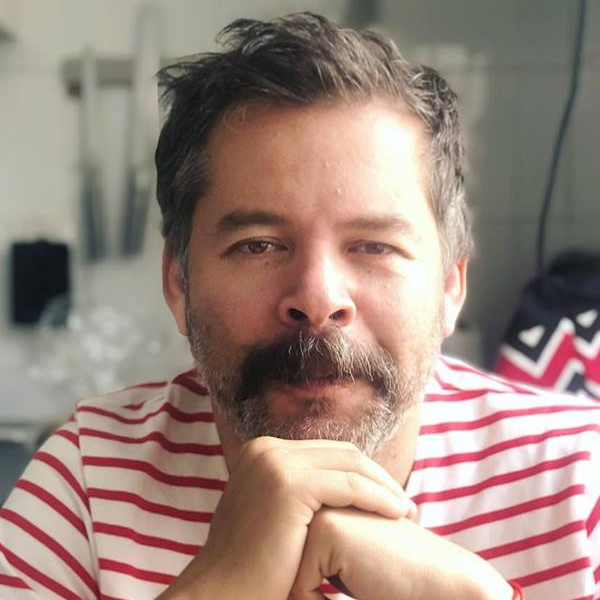 Editor en Jefe de edgargonzalez.com. Profesor /Conferenciante /Curator y Consultor de tendencias e innovación en la intersección entre la arquitectura/diseño, tecnología y difusión desde EGD (Edgar Gonzalez Design).
Director academico del grado en Diseño de la ie University School of Architecture and Design.
* también es mexicano, arquitecto e iconoclasta de vez en cuando, aunque no necesariamente en ese orden.