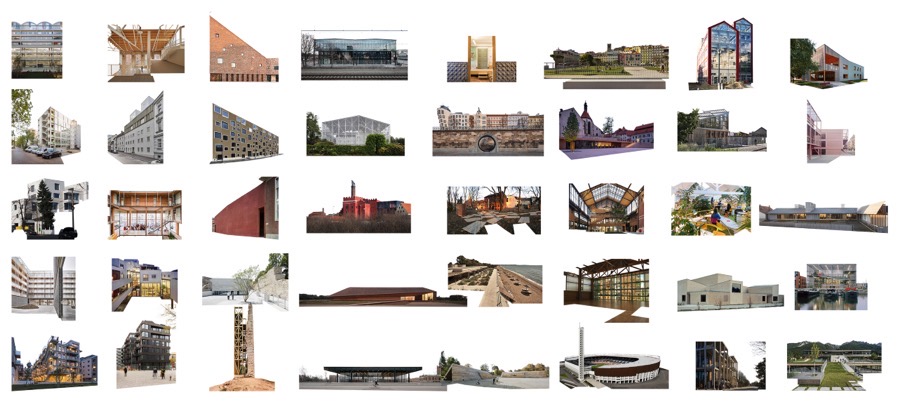 La Comisión Europea y la Fundació Mies van der Rohe acaban de anunciar las 40 obras seleccionadas que competirán en el Premio de Arquitectura Contemporánea de la Unión Europea – Premio Mies van der Rohe 2022.
Los cinco finalistas se anunciarán el 16 de febrero de 2022.
 
Los ganadores del Premio de Arquitectura y Emergente, se anunciarán a mediados de Abril en Bruselas.
El EU Mies Award Day, que contará con la Ceremonia de entrega de los Premios, tendrá lugar en mayo de 2022 en el Pabellón Mies van der Rohe de Barcelona (como es tradición), en un evento que incluirá presentaciones de los autores de las obras ganadoras y finalistas, y debates con los arquitectos, clientes, responsables políticos y miembros del jurado; la exposición con las 532 obras participantes en el EU Mies Award 2022; y los eventos de la Barcelona Architecture Week que incluyen el Festival Internacional de Cine de Arquitectura entre muchos otros.
En la selección se encuentran 5 proyectos en España (todos en Barcelona curiosamente) seleccionados para el EUMiesAward 2022 + 1 proyecto de un equipo español en Londres:
 – 85 viviendas públicas en Cornellà en Barcelona de peris+toral.arquitectes
– Fabra & Coats y viviendas públicas en Barcelona de Roldán+Berengué, arqts
– La Borda – Cooperativa de viviendas en Barcelona de Lacol
– Recuperación de la Torre de Merola en Puig-Reig – Barcelona de Carles Enrich Studio
– Polideportivo del Turó de la Peira y ordenación de la Manzana Urbana Interior en Barcelona de Arquitectura Anna Noguera; J2J architects
– Second Home Offices en Holland Park  en Londres de Selgascano
LA lista entera está aqui:
Work name

 
 

Studio 

 
 
 

peris+toral.arquitectes. Barcelona (SP)

 
 
 

ADN Birou de Arhitectura 
Bucharest (RO)

 
 
 

Werner Neuwirth.Vienna (AT)

 
 
 

K-Studio. Athens (GR)

 
 
 

BDR bureau. Turin (IT)

 
 
 

Archikon. Budapest (HU)

 
 
 

Roldán+Berengué, arqts. Barcelona (ES)

 
 
 

Deadline (Britta Jürgens + Matthew Griffin). Berlin (DE)

 
 
 

Neutelings Riedijk Architects. Rotterdam (NL)

 
 
 

einszueins architektur. Vienna (AT)

 
 
 

NArchitekTURA / Bartosz Haduch. Krakow (PL)

 
 
 

K2S Architects Ltd;Arkkitehdit NRT. Helsinki (FI)

 
 
 

Carmody Groarke. London (UK)

 
 
 

FAR frohn&rojas. Berlin (DE)

 
 
 

Lacol. Barcelona (SP)

 
 
 

Marlena Wolnik MWArchitekci. Katowice (PL)

 
 
 

Civic Architects; Braaksma & Roos architectenbureau;Inside Outside / Petra Blaisse. The Hague (NL) Amsterdam (NL)

 
 
 

Praksis;  VMB restoration Architects; Kirstine Jensen landscape Architecture;   Morten Skovmand Artist;Henry Jensen Engineers. Svendborg (DK) / Århus (DK)/Copenhagen (DK) /Oslo (NO) /Odense (DK)

 
 
 

Arhitektura Krušec; Studio AKKA . Ljubljana (SI)

 
 
 

Trabalhar com os 99%, CRL (Working with the 99%, coop);  ateliermob. Lisbon (PT)

 
 
 

Xaveer De Geyter Architects. Brussels (BE)

 
 
 

David Chipperfield Architects. Berlin (DE) /London (UK)

 
 
 

Bevk Perovic arhitekti. Ljubljana (SI)

 
 
 

Atelier Julien Boidot. Paris (FR)

 
 
 

RAUM. Nantes (FR)

 
 
 

Carrilho da Graça, arquitectos. Lisbon (PT)

 
 
 

Petr Janda / brainwork. Prague (CZ) 

 
 
 

Grand Huit; Melanie Drevet Paysagiste. Paris (FR)

 
 
 

Carles Enrich Studio. Barcelona (SP)

 
 
 

mia2 ARCHITEKTUR. Linz (AT) 

 
 
 

fasch&fuchs.architekten. Vienna (AT) 

 
 
 

selgascano . Madrid (ES)

 
 
 

BAUKUNST;  BRUTHER. Brussels (BE) / Lausanne (CH) / Bordeaux (FR)

 
 
 

OOPEAA Office for Peripheral Architecture. Helsinki / Seinäjoki (FI)

 
 
 

Grafton Architects. Dublin (IE) 

 

Turó de la Peira's Sports Center and Layout of the Interior Urban Block

 
 

Arquitectura Anna Noguera; J2J architects. Barcelona (SP) 

 
 
 

ilimelgo; Secousses Architectes  Paris/Rennes (FR)

 
 
 

Helen & Hard. Stavanger / Oslo (NO) 

 
 
 

Dorte Mandrup A/S. Copenhagen (DK)

 
 
 

Frances ca Torzo. Genoa (IT) 

 
Editor en Jefe de edgargonzalez.com. Profesor /Conferenciante /Curator y Consultor de tendencias e innovación en la intersección entre la arquitectura/diseño, tecnología y difusión desde EGD (Edgar Gonzalez Design).
Director academico del grado en Diseño de la ie University School of Architecture and Design.
* también es mexicano, arquitecto e iconoclasta de vez en cuando, aunque no necesariamente en ese orden.