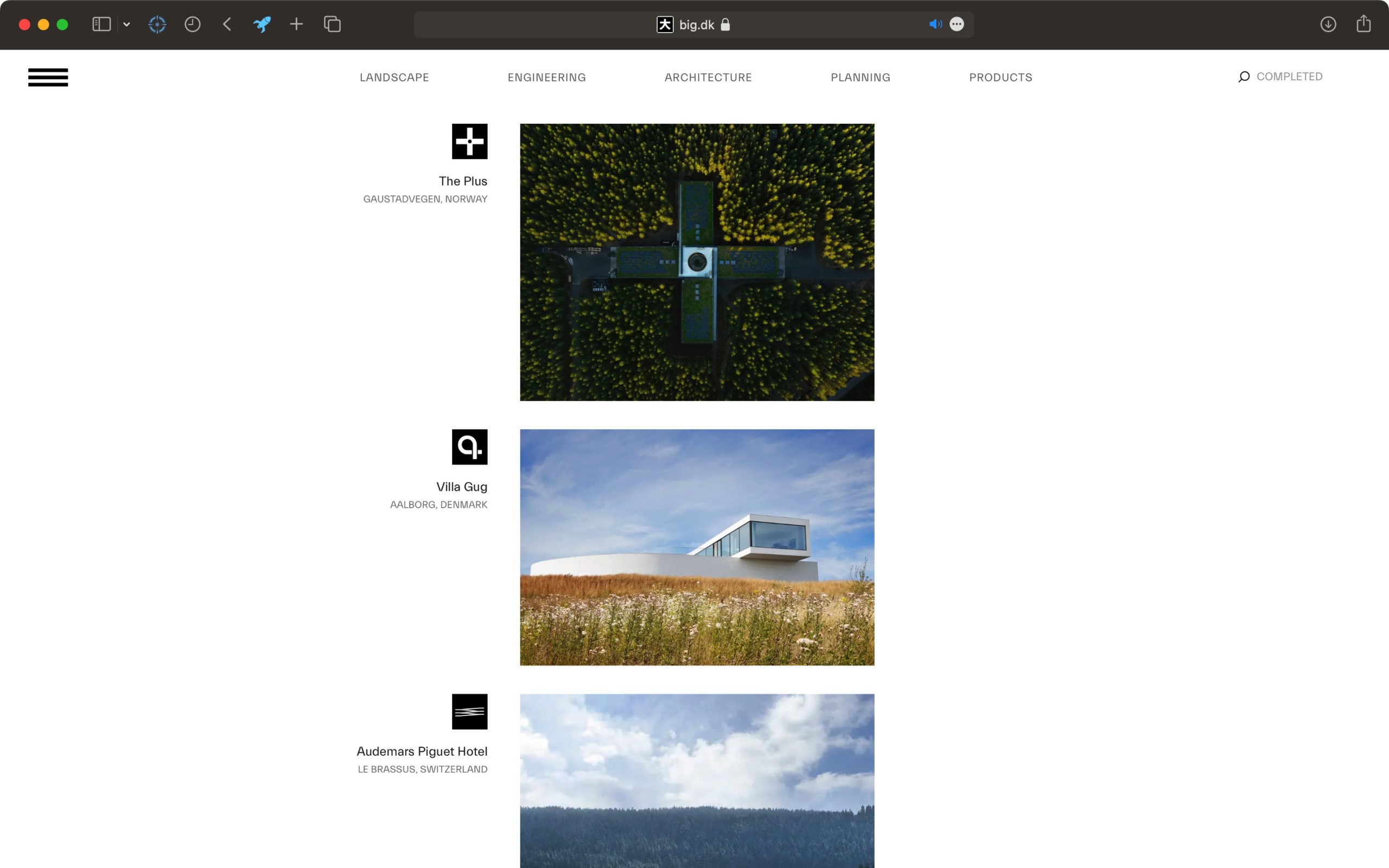 Después de casi 20 años con una web que marcó época. (originalmente programada en Flash) anunciando ya que BIG.DK (siempre he sido fan del juego de palabras) aspiraciones de grandeza.
Hoy BIG, está traicionando a BIG L E A P.   Landscape Engineering Architecture Planning and Products. Una enorme compañía multinacional y realmente multidisciplinar con más de 700 empleados en 5 oficinas.
Echaremos de menos esos clásicos iconos de colores que se reclasificaban con un click, pero la nueva web está bastante bien.
BIG kudos a BIG!!!
Today, I want to share some exciting news from BIG, the renowned architecture studio. They recently tweeted that their original website was conceived during the flash era, nearly 20 years ago! But now, they have launched a new website, http://big.dk, that truly reflects their built body of work and their growing multidisciplinary practice, BIG L E A P.
As an architecture enthusiast, I was impressed by BIG's portfolio, which encompasses a wide range of disciplines including Landscape, Engineering, Architecture, Planning and Products. The new website provides a visually stunning and user-friendly experience, allowing visitors to explore their projects, team, and services in great detail.
I had the opportunity to take a tour of the new website and was struck by the attention to detail and creativity that has gone into the design. From the clean and modern layout to the interactive features, it's clear that BIG has put a lot of thought into creating a website that truly represents their brand and their work.
If you're a fan of architecture, design, or simply looking for inspiration, I highly recommend checking out the new BIG website. It's a great way to discover their projects, learn about their approach to design and explore the many different aspects of their multidisciplinary practice.
Editor en Jefe de edgargonzalez.com. Profesor /Conferenciante /Curator y Consultor de tendencias e innovación en la intersección entre la arquitectura/diseño, tecnología y difusión desde EGD (Edgar Gonzalez Design).
Director academico del grado en Diseño de la ie University School of Architecture and Design.
* también es mexicano, arquitecto e iconoclasta de vez en cuando, aunque no necesariamente en ese orden.